August 16, 2019 / G.S. Renfrey / Podcast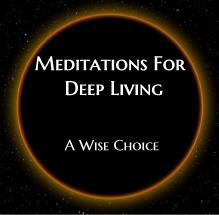 Meditations for Deep Living: A Wise Choice. This podcast of the series explores perhaps the most import choice we have each moment of each day: to live with mindful attention, or through habitual patterns of thought.
Read More

This guided meditation begins with a brief talk about a choice we make each day: to live with mindful attention, or become caught in the busyness of habitual thought patterns. It then leads the listener through a breath focused meditation, followed by the experience of allowing the mind to become distracted and lost in thought. The listener is encouraged to contrast the two experiences and to make a wise choice through mindful practices.
To listen to this guided meditation, visit Insight Timer or listen on SoundCloud.



Coming Soon

Further releases of Meditations for Deep Living:. Each relase in this new series provides a brief discourse on the topic at hand and an experiential meditation.
Also Coming Soon

The One Year Marriage: A Formula for Enduring Love (See Books link), will be released as a chapterized audiobook.