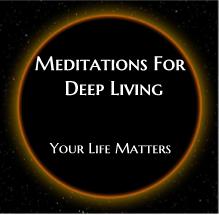 --This>
In a crowded world that so often appears controlled by agencies beyond our influence, itfs far too easy for most everyone, at some point, to feel that we make no difference, that in the larger scheme of things our lives really donft matter. It's a sad misperception because your life, all of our lives, matter to the world, to the Universe itself, in ways that you may not be aware of.
This brief didactic and the guided meditation that follows, may help you realize that your life truly.
Your Life Matters is part of the guided meditaiton series, Meditations for Deep Living.
This guided meditation is available for free listening on the Insight Timer App, and on SoundCloud.